10 Years, 10 Disasters: The Worst Grammy Looks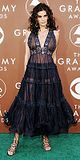 2006: TERI HATCHER
Presenter Hatcher chose this see-through Jean Paul Gaultier dress because "I didn't want anybody to have to wonder if I wore underwear or not." We just wondered if she looked in the mirror.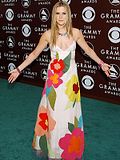 2005: JOSS STONE
Instead of blossoming at the Grammy Awards, Stone wilted in this busy Petro Zillia gown that's more bedsheet than hippy-chic.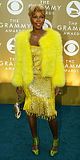 2004: MARY J. BLIGE
Wearing this fluffy marabou Gucci jacket, was the three-time Grammy winner curious about how to get, how to get to Sesame Street?
2003: GWEN STEFANI
With No Doubt's win that year for best pop performance, Stefani might've been feeling hella good – but she looked hella bad in wacky white tails and thigh-high boots.
2002: SHERYL CROW
Crow's a big Grammy winner (with nine awards), but in '02, the singer was a fashion loser, sporting what looked like a bathrobe over her honky-tonk boots and Daisy Duke shorts.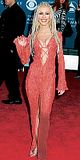 2001: CHRISTINA AGUILERA
At least she left the chaps at home! Thankfully, Aguilera has since ditched the braids-and-boobs look from 2001 for her recent super-glam style.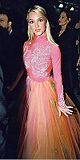 2000: BRITNEY SPEARS
She's just tutu much! Drowning in a sea of sherbet-colored tulle, Spears, in 2000, was taking being a "pop princess" too far, looking way too much like – Peaches 'n Cream Barbie.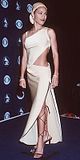 1999: JADA PINKETT SMITH
Before her transformation into a metalhead in Wicked Wisdom, Pinkett Smith got all wrapped up in her Grammys outfit – apparently leaving half her dress at home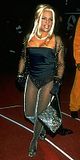 1998: LIL' KIM
The rapper sent glitter stock soaring with her tube-top-and-panties outfit – and if her hip-hop career ever ends, she'll always have Vegas!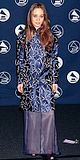 1997: FIONA APPLE
This Apple's the pits! At the '97 Grammys, the singer won best female rock vocal performance for Criminal – and broke the laws of good taste.
1996: SHANIA TWAIN
That year, Twain won best country album for The Woman in Me, so maybe that's why she decided to show the entire woman in her in this ill-conceived sheer number.